Inspiration has eluded me recently, which is why it's taken a while to make this post. Progress on the camper has happened, albeit slowly. I've made some good, positive changes in the process of creating my best life.
Morning Ritual
About a month ago I started daily practice of The Miracle Morning, which includes writing, meditation, affirmations, visualization, reading, and exercise. The guy who wrote the book suggests starting early, about 5:30AM. Since I haven't had a job, I've had the luxury of getting up and taking time with my mornings.
Years ago I started journaling three pages every morning as part of The Artist's Way. It became a necessary morning ritual. Morning pages help me immeasurably and have been folded into my new, expanded Miracle Morning routine.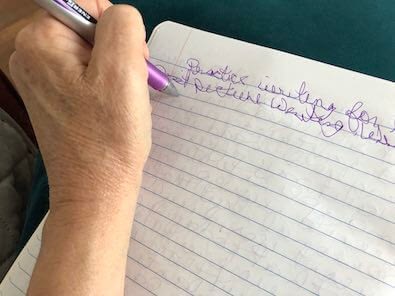 This is how my mornings usually go:
Get up when I feel like it. (This is something I need to work on. Setting an alarm and getting up by 6:30 or 7:00 is my goal.)
Make coffee or tea.
Sit in my favorite chair and write morning pages.
Meditate.
Read affirmations out loud and immediately visualize each after reading.
Read from a book on writing—currently "Writing Down the Bones: Freeing the Writer Within" by Natalie Goldberg and love it. Highly recommend if you aspire to write.
Take Poppy for a walk.
Do about 30 minutes of yoga.
Write for at least 30 minutes.
By the time I've finished everything it's usually noon, at least. My day continues with other various activities, sometimes including the trailer.
There's so much about my new morning ritual that feels great. One of the most important and clearly beneficial at this point are the affirmations and visualization. One affirmation is that I am financially comfortable because I have money coming in from various sources.
Visualizing Money
In my very first Camper Woman post I told the story of my struggle to find a job and how that led to the purchase of the trailer. I had been working in a part-time job, an internship, that started when I was still in school.
Because it was an internship, it ended this past February so they could hire a new student. I was completely without a job and worried about finances. I was torn between loving the free time I had to garden, work on the trailer, write, etc., and the need for money. My job search continued in earnest, but I simply could not find a full-time job; I started realizing I didn't really want one.
A few weeks ago I had yet another interview. This one was for two different jobs, a full-time job that I think I'd really enjoy and could be good at, and another internship for 20 hours a week and typical intern pay. The internship was offered to me; the full-time job was not.
It felt like an insult. I am 60 years old, have two master's degrees and decades of professional experience, and I don't even warrant the offer of an entry-level full-time job?!?
But the truth is that I would likely feel trapped with a full-time job. I wouldn't be able to continue doing what I love. And, although the internship would allow time to pursue other interests, it didn't feel like the right move. I turned down the job offer and continued on, feeling that I would be okay and something would come up.
AND IT DID! The next day I got a call from the president of Mercy Housing where I did my internship. They needed someone part-time who could make a commitment to be with them for a while and to do work that is interesting and fulfilling and pays better than an internship.
I said, "YES!". I'm now free from the pressure of trying to find a full-time job. I don't want one. My writing, camper renovation, gardening, and everything else I want to do can continue. And I won't worry about money. I am so thankful.
Time to move forward on a daily affirmation which is completely under my control—"I continue to renovate the trailer. It will be road worthy and ready to take camping by June 1st. It will be finished and ready for my trip by September 1st."
Excitement Around Every Corner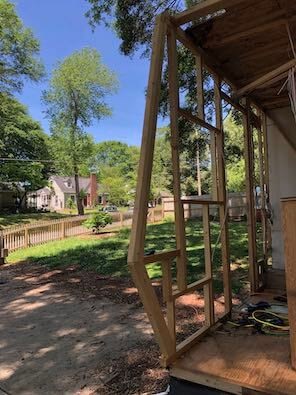 When I set the deadline to have the camper road-ready and prepared to camp in by June 1st, the date seemed so far away. And at the time it was. But the weeks are ticking along and now I have less than a month.
By road-ready, I mean the structure will be rebuilt and the outside shell replaced and sealed. The inside will not be rebuilt—the deadline for that is September 1st.
The front-right corner framing is finished. I hope it's structurally sound, but as a trailer enthusiast told me—These things are NOT structurally sound or logical. If I try to be logical about it, it will play with my head. So rather than trying to be logical about it, I'm using what's still there to guide me and making up the rest.
As it is now, the front-right framing feels wobbly. I think that will change once I've connected it to the front framing. With that in mind, I tore out the front, removing the siding and pulling down the rotted frame, hoping to rebuild the front and connect to the new front-right frame. But I realized I can't build the front frame until I've rebuilt the front-left.
Front-Left Quadrant
I thought I had finished the most difficult of the corners. The front-left seemed the least damaged and therefor the least challenging. Of course, that wasn't true.
The floor rot in this corner went under the kitchen sink cabinet, requiring removal of the cabinet. This may not seem like a big deal, but under that cabinet were the water heater, water pump, gas line for the stove and water heater, and a water intake hose. Before rebuilding the floor, all of that needed to be removed. (It also needed to be clearly documented so I remember how to put it back together eventually.)
That is where I am now. The cabinet and systems under it have been removed. My next step, today, will be to tear out the floor. From there I'll rebuild the floor supports and floor. On top of the new floor I'll rebuild the wall frame so I can recreate the front frame and connect it to the left and right frames.
If I work diligently, I will be able to reach my goal of "road worthy by June 1st", but it will definitely take focus and intention. I believe I can do it now that the distraction of money fears and job search are no longer prominent in my life.