---
Who is Camper Woman?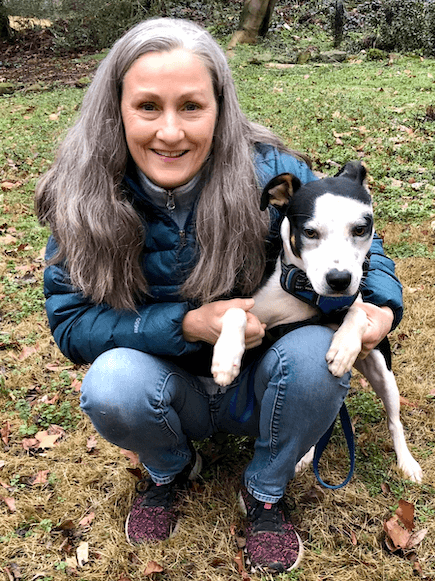 Welcome to my blog. I'm Kirsten and am pictured here with Poppy, my 35 pound, mixed-breed companion. I bought a travel trailer with the intent of traveling across the United States, not realizing at the time that the frame was completely rotten. So for now I'm staying home and rebuilding it. That's okay; there's adventure everywhere and in everything. And there's always opportunity for learning and growth.
I will be traveling eventually and will write about that when I do. Until then, follow me for the progress I make on the renovation and the lessons learned along the way.
Procrastination: When the Going Gets Tough, I Take a Nap
The camper and I have been spending time apart from each other lately. It's being an asshole and I'm being stubborn, or maybe I'm avoiding confrontation. I can't blame the camper. It's experienced so much neglect and trauma; I guess it deserves to be an asshole. We will get through it together and our relationship will be stronger, but right now we're experiencing a rocky phase.
Mining for Nuggets
Progress on the camper feels like it's going slowly. It seems that I'm taking off every other day because of rain and have to end those workdays covering the camper in tarps to prevent the certain soaking. Some days I just don't feel like working as hard as is required. Sometimes the required brain power and positivity needed are just too much. Besides that, it's spring and the yard and gardens are calling me.
Support, Sister, Tool, Skin: Musing on Multiple Meanings
Words, words, words—spinning through my head as I measure, cut, and connect. One word can have two or more meanings. Sister, tool, support, and skin are some of the words with multiple meanings that flow through my mind while I'm working. Support is one of the most crucial.
The Air Duct—Why is Everything So F***ing Difficult?!?
Expectations lead to disappointment. As I wrote about in my first post it's time to forget about plans, and I have—mostly. Many days I spend working on the trailer, just BE-ing. I'm in the flow. Life is good.